Journal Entry:
Fri Jul 12, 2013, 12:45 PM
results
Thank you everyone for participating! Sorry for the late results! I tried my best by combing through my feedback messages that included the time of the favorites, and left out the entries submitted after the deadline! And the results are shown below: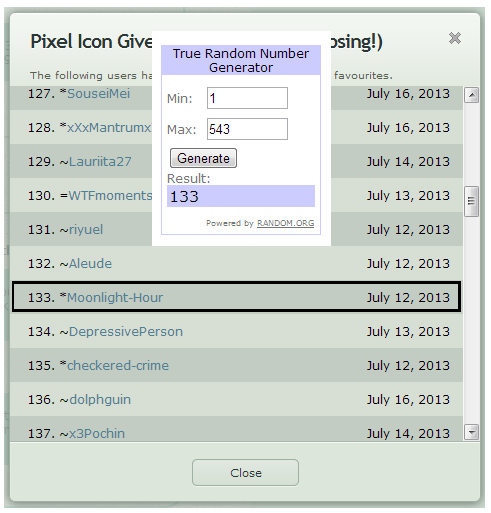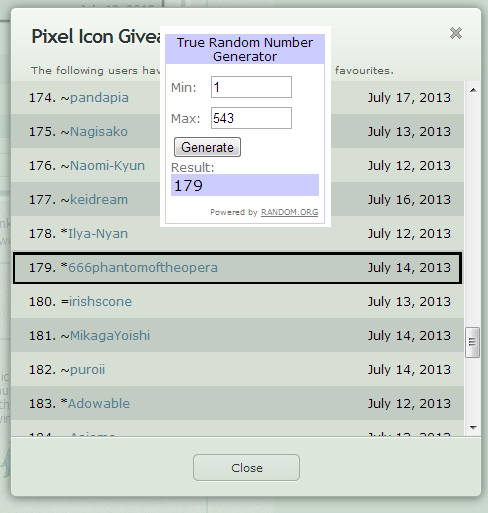 The winners are
Moonlight-Hour
and
OperaHouseGhost
! Thank you once again to everyone

I didn't think so many would be interested!
about
Hello! I'm holding a pixel icon giveaway!
The winner will be chosen using a random number generator, and will receive an icon with the base as shown below! If there are more than 100 entries, there will be two winners! (:

Starts: 7 / 12 / 2O13
Ends: 7 / 16 / 2O13 @ 11:59pm PST
rules
1 //
Post a new journal/poll linking back to this one please!
You do not have to comment on this journal linking me to it, but if you are the winner, I will check your journal and poll history!
2 //
Favorite this journal!
I will be using a random number generator based on the favorites! You can always remove it from your favorites after this is over! ^q^